Important Announcements:
HB 2005-B is expected to pass the Democrat dominated Oregon House and Senate when they are ready – and the Gov will sign.
Oregon's HB2005 Update: May 18, 2023
The Oregon House of Reps passed HB2005-B on May 2nd strictly on party lines as was expected. The Bill now moves to the Senate for its first reading on May 22nd. And it will most likely pass that chamber in the next few days as well for the Governor to then sign.
HB2005 Update: April 13, 2023
It appears that Oregon's House Bill 2005 (B-Engrossed), was passed by the Ways and Means committee with numerous adopted amendments. It is scheduled to be read to Oregon's legislative House on May 2nd – and passage may be imminent with the Bill going into effect immediately.
.
Oregon's HB 2005 (House Bill 2005 [2023]) – Mar 23, 2023
Oregon's liberal Dems have decided to follow in the foot-steps of big brother Fed Gov in an attempt to do some unconstitutional gun-grabbing at the state level, like their liberal neighbors to the north and south!  That's right, HB 2005 is working its way through the Legislative Process and is aimed directly at taking away Oregonians 2A rights.
HB 2005 in summary is attempting to do what big brother ATF tried last summer when they sought to ban "ghost guns". Oregon Democrats have laid out the frame-work to criminalize those who possess, manufacture, sell, and transfer "undetectable firearms" or "unfinished frames or receivers". Oregon's radical Left thinks they have the power to unconstitutionally strip you of your 2A rights. The scary part is, unlike the ATF, it's much easier for an individual state to do this, as the Federal Government has much more opposition they are up against when it comes to these unconstitutional gun-grabs.
There appears to be a decent amount of opposition on this by Oregon residents, as there are were 705 testimonies submitted opposing this unconstitutional bill as of Mar 23, and only 216 testimonies submitted supporting it. But these testimonies are typically something done by the government because of a requirement by law, not because they actually care about what you have to say.
It goes without saying that this Bill if passed could shut down our 80% product Sales for a while until everything is overturned by the courts. So we are responding accordingly by Cutting Prices on all of our 80% products, and making it easier for you to do your part. Show your opposition to this unconstitutional gun-grab by Oregon's liberal Left, and exercise your 2A rights today!!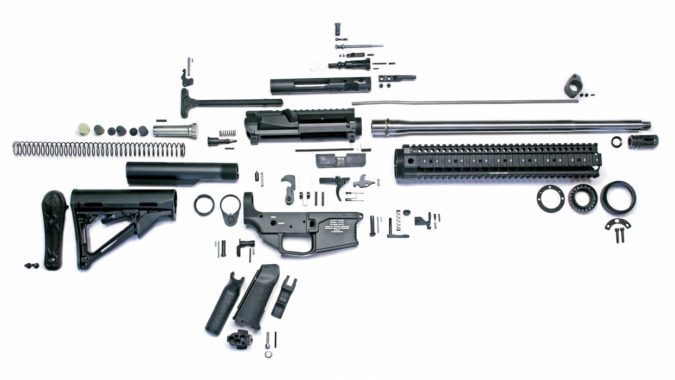 Who We Are
We are a licensed Firearms Manufacturer (FFL-07) based in Oregon and are as adamant of firearms enthusiasts as anyone, so much so that we decided to design and build innovative custom parts and accessories for the tactical rifle market.
Goals
We're looking forward to serving our customers with some of the best firearms related products, parts, accessories and services that we can provide for the foreseeable future.  We have numerous design concepts that we would like to fully develop and bring to market as we can. 
Active Projects
Our short term goals are to introduce more products for the 80% Lower market including our AR-9 design, as well as broaden our product offerings by making available various options such as Pictogram markings, adding LightWeight features and Skeletonized magwells.  We've also designed and are actively building matching Upper Receivers for our AR-15 and SR25 80 Percent Lowers.  And we can not longer build and market our Drill Jigs due to the ATF Rule Change of August, 2022.
For the long term, we are working on a new pistol-carbine weapon system – and we are also developing an AR 15 based weapon design which might be a possible replacement for the US Military's M-4/M-16 systems.  We like to think really big.
Innovative Designs
One concept that we have finalized is a 3-pc Jigless 80 percent lower which we will NOT be able to showcase on the website due to the aforementioned ATF Rule Change.  We've also developed a functional piston driven air-gun with ballistic capabilities approaching a suppressed M4A1 with 14.5″ barrel, which would not be subject to existing Firearms laws. But we'll stop there as our Patents are pending at this time – but do watch for developments to be published here and on firearms related websites.